Fire Chief Doody takes ALS ice bucket challenge
By
Mike Berger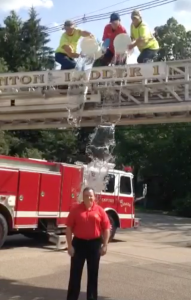 Fire Chief Charlie Doody was nominated for the ice bucket challenge by his son, Mike Doody, and the chief gladly accepted. Those who are nominated have 24 hours to either have a bucket of ice water dumped on them or donate $100 to help support ALS research. Preparing the bucket overhead were Mike Milton, Sean Fallon, and Mike Doody.
School Committee meeting date changed
The Canton School Committee will now meet on Monday, August 25, at 7 p.m. at CHS instead of the previously scheduled meeting date of August 21.
Ivy's Bakery closes following oven fire
Ivy's Bakery, located at 95 Washington Street, was temporarily closed following an oven fire that broke out inside the kitchen on Friday, August 8, around 10 a.m. According to Canton Fire Lt. Greg Woodbury, firefighters evacuated the building and found significant smoke conditions in the kitchen and display area. Two sprinkler heads were activated in the kitchen over the main industrial oven and extinguished the fire. Columbia Gas and the town's wiring and building inspectors were called to the scene along with the health department. The building's gas line was shut down and the power was isolated. One employee experienced some singed hair but otherwise had no complaints and refused medical treatment.
The cause of the fire was determined to be an explosion in the industrial oven, possibly due to a gas buildup. The total damage was estimated at $10,000, plus loss of business and inventory.
The owner was advised to have all equipment inspected and serviced prior to reopening, and the business would have to remain closed until certified by the town's Building and Health departments. Firefighters remained on the scene for approximately 90 minutes.
Short URL: http://www.thecantoncitizen.com/?p=26465

Posted by
Mike Berger
on Aug 13 2014. Filed under
News
,
Police & Fire
. Both comments and pings are currently closed.