Outside the Whale: November Elections
By
Tanya Willow
Canton may be the first town in Massachusetts to move its local elections from the spring to November, but first it has to get approval from the state legislature. Usually local petitions are unimportant to other communities, but if this happens in Canton, other towns might ask to do the same, making this a dangerous idea. It may well meet with political opposition outside of Canton. But something has to be done or town elections will no longer be a selection process, but an anointment ceremony for incumbents.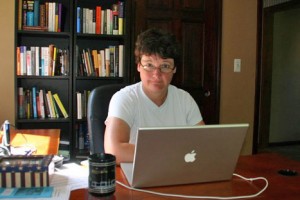 Despite strong opposition from Canton's elected officials, May's town meeting approved this petition sponsored by Bruce Rohr 40-43. But according to a July 17 article in the Canton Citizen, because of the narrow victory, rather than bringing the change to the legislature for approval, the next step may be a town-wide vote on the change. Do you really want the convenience of being able to pick up a local election ballot right along with your state/federal election ballot in November? Wouldn't you really rather vote for your local candidates in April, when less than 500 of the 14,000 registered voters in town will even remember there's an election? Regardless of whether the question is asked of voters in April or November, it's hard to imagine the petition failing in a town-wide vote.
Cities already vote for their local officials in November — on the same day they vote in their state and federal representatives. But for some reason towns have their election in the spring. And it's willy-nilly. Towns don't have their elections on the same spring day. Some have it on a Monday, some on a Tuesday. Some towns vote in March. Canton's is in April. Sharon's local election is in May. So it's not likely your car radio, on some spring morning, will remind you on the way to work that there's an election in your town today.
The lack of challengers has brought the local vote to critical lows. In Canton, 428 people cast votes last April. Even the candidates themselves are showing less interest in the process. In 2014, for the first time ever, Canton held no candidates' night. Sue Gibbs, who runs the Blue Hills Civic Association — the last civic group standing after all the other candidates' nights folded over the years — said only two candidates agreed to come, so she canceled.
The lack of local election participation got so bad that in the spring of 2011 the town wondered if it could cancel the local elections to save the town money if there were no contested seats. This idea would have further discouraged challengers because then a long-shot underdog may be seen as forcing the town to pay for an expensive contest for the sake of his ambition. Fortunately, the state understood these implications and told the town it had to hold an election, whether there were challengers or not.
But if Canton gave even a thought to canceling the local elections in April due to lack of interest, why would these same officials object to the far less radical idea of simply moving it to November?
What I think happened was that the Community Preservation Act vote, another petition brought before the town with the help of Bruce Rohr, really upset the local boards. The majority of elected officials were against the CPA. It failed repeatedly in April but passed with flying colors in November, when there is a much higher turnout. If these November voters come in to play during the local elections, they may fear the town elections will become a kind of "Wild West" where good manners shown through predictable behavior is lost. The old guard, which votes in April and comes to town meeting in May, might be nullified by these casual participants — voters who shoot from the hip, having no understanding of the town's issues, who don't recognize the political names in town and who don't follow local politics.
But as Planning Board Chairman Jeremy Comeau and fellow Planning Board member Tori McClain said during May's town meeting debate on this issue, the candidates will just have to go out there and campaign and educate the public on their position. When Sue Gibbs calls and says the Blue Hills Civic is putting together a candidates' night, the candidates might have to return her calls and say they'll be there, like they used to in the old days.
Winston Churchill was frighteningly observant when he said that the best argument against democracy is a five-minute conversation with the average voter. Selectman Avril Elkort made a strong point when she said on town meeting floor that Canton is already well run. Why would the town risk moving the elections to November and bring in people who, while voting for governor or president, may lazily grab a local ballot and vote arbitrarily on local questions and candidates? But in a town the size of Canton, it doesn't seem an impossible task to educate voters on the issues and to have the majority vote with at least some understanding of the candidates and the problems they face.
The powers that be can toss up barriers, but this petition will be supported by the voters. It may change town voting statewide. And then, years from now, when all the debate is forgotten, Canton will proudly say it was the first town in Massachusetts to open the democratic process by moving its local elections from the spring to November.
Short URL: http://www.thecantoncitizen.com/?p=26281

Posted by
Tanya Willow
on Jul 31 2014. Filed under
Featured Content
,
Opinion
,
Outside the Whale
. Both comments and pings are currently closed.