Town election to feature single ballot question, no races
By
Jay Turner
This coming Tuesday, April 8, is Election Day in Canton, and voters should have very little difficulty filling out their ballots with only one name listed for each of the 12 open seats.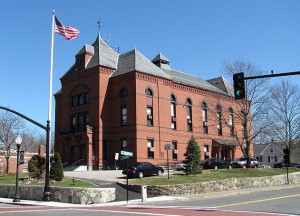 This will mark the second straight election — and third in the last four years — that Canton has not had a single contested race, and the ballot is once again dominated by longtime incumbents, including multi-term selectmen Bob Burr and Victor Del Vecchio and School Committee members Reuki Schutt and John Bonnanzio.
In the meantime, the only real decision being put before voters this year comes in the form of a ballot question, which proposes to extend the $100,000 Community Preservation Act (CPA) tax exemption to commercial and industrial property owners.
Under the specific provisions approved in the November 2012 election, only the first $100,000 of residential property, as well as property owned by low-income residents and low- or moderate-income seniors, is currently exempt from the CPA surcharge, which amounts to 1 percent of the annual real estate tax levy. Those monies are then placed into a dedicated fund, matched annually at a certain percentage through the statewide CPA trust, for the preservation of open space, historic resources, affordable housing, and outdoor recreation.
The commercial exemption was not an option at the time the CPA was first being considered in Canton, but it was later added to the statewide CPA legislation and subsequently approved at the 2013 annual town meeting by a wide margin. The town's Community Preservation Committee proposed the new exemption last spring in an effort to promote fairness, and it appears to have a broad base of support, with various town officials — and of course, the business community — all backing the measure.
In addition to the two Board of Selectmen and two School Committee candidates, other incumbents running unopposed for reelection this year include Daniel Flood on the Board of Assessors, Dr. Julie Goodman on the Board of Health, Martin Dorian on the Housing Authority, and George Comeau, Dorothy Shea and Susan Cogliano on the Library Board of Trustees.
The only newcomers appearing on the ballot are Michael Loughran, who will run unopposed for the two-year School Committee vacancy created by the January resignation of David Emhardt, and 2009 CHS graduate Michael Mitcheroney, who is running unopposed for a five-year term on the Planning Board in place of Kristen Mirliani, who decided not to seek reelection this year.
Mitcheroney, 23, is the youngest of the dozen candidates and is brand-new to Canton politics. He currently works for the Canton Recreation Department and graduated from Westfield State University last spring with a degree in regional planning.
"I actually wasn't aware of the open spot on the Planning Board until the last day to pull papers," he said. "I got a call from my boss saying it would be a good way to use my regional planning degree. I agreed and pulled my papers to run."
Mitcheroney said he is neither pro-development nor anti-development; rather, he describes himself as "more of a hybrid between the two."
"Although I am running unopposed, I am eager to deal with the projects and developments within the town," he said. "It is an exciting opportunity for me and I will be excited to work hard as a member of the board."
Polls will be open to all registered voters between 7 a.m. and 8 p.m. at four locations: Canton High School for precincts 1 and 6; Dean S. Luce School for precinct 2; Blue Hills Regional for precinct 3; and John F. Kennedy School for precincts 4 and 5. Click here for a precinct map.
Town Hall photo by John Phelan, courtesy of Wikimedia Commons
Short URL: http://www.thecantoncitizen.com/?p=24880
Posted by
Jay Turner
on Apr 3 2014. Filed under
Town Election
. Both comments and pings are currently closed.