Canton voter proposes new town election season
By
Jay Turner
In an effort to jumpstart a disengaged electorate and lure more residents back to the polls, a Canton voter has launched a grassroots initiative to shift the annual town election from April to November so that it coincides, at least in the even-numbered years, with state and federal elections.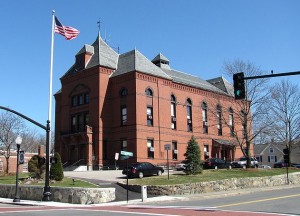 Bruce Rohr, a former Conservation Commission member, is spearheading the proposal and has already gathered enough signatures to ensure its placement on the warrant at the upcoming May town meeting.
"This is something that I've talked to various people about over the last two to three years," said Rohr in a recent interview. "People are very concerned about what's happening in Canton with the [declining] voter turnout."
Rohr is hoping to attract widespread support for his proposal over the coming months, and he will likely need all the help he can get as the move would also require approval by the state legislature. Currently, Massachusetts law mandates that all town elections must be held in the months of February, March, April, May or June.
"The chances of success in getting legislative approval would dramatically improve if the legislature knows that this is something Canton voters want," stated Rohr in a letter to fellow voters.
A politically active citizen who previously served as a campaign manager for Selectman Victor Del Vecchio, Rohr said he became convinced that the current system was "broken" after the last town election — a contest-free affair dominated by longtime incumbents that attracted less than 2 percent of the town's registered voters.
"Last April, [political participation] reached a new low when only 230 votes were cast," he wrote in his letter. "There are 15,500 registered voters in Canton. Canton isn't unique as most towns across Massachusetts are recording record-low turnouts for local elections. Clearly we have a problem."
Rohr said that moving the date of the election to early November, while certainly not a cure-all, would "dramatically increase voter turnout" in local elections — particularly in years when there is a gubernatorial or presidential race up for grabs.
"There is little doubt that in odd-numbered years, voter turnout will be lower than in the even-numbered years," he acknowledged in his letter to voters. "However, all elected offices in Canton have odd election cycles. This creates some interesting math."
"Take the three-year cycle for selectmen," he continued. "For a term expiring in 2015, the election would be very similar to the present April election: local issues only but hopefully a little higher turnout just by taking place in November. However, three years later in 2018, the election would be statewide with over 10,000 votes cast, a very different demographic. Therefore, every elected official in Canton who wishes to hold on to [his or her] seat for multiple election cycles would alternately need to please both the couple hundred 'super voters' and the much larger electorate."
Rohr's proposal, which he plans to file later this month when the warrant opens, would "authorize the Board of Selectmen to file a petition with the General Court for special legislation allowing Canton to hold annual municipal elections on the first Tuesday after the first Monday in November."
Besides improving voter turnout, Rohr believes this system would help to even the political playing field and encourage more people to run for office.
"People have just been so discouraged," he said. "Right now, with the turnout as low as it has been, it's almost impossible for even a really qualified candidate to compete [against an incumbent]. In November elections, however, it's an entirely different ballgame."
Town Hall photo by John Phelan, courtesy of Wikimedia Commons
Short URL: http://www.thecantoncitizen.com/?p=23419
Posted by
Jay Turner
on Dec 19 2013. Filed under
News
,
Town Election
,
Town Government
. Both comments and pings are currently closed.