Supt, chiefs form coalition to combat drug abuse
By
Mike Berger
In a unique collaborative effort between the Canton Public Schools and the Canton Police and Fire departments, a coalition is being formed to get to the root cause of substance abuse among local youths and identify possible solutions.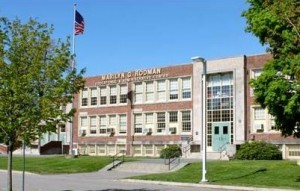 Police Chief Ken Berkowitz and Fire Chief Charlie Doody both attended the October 24 School Committee meeting, and together with School Superintendent Jeff Granatino they pledged their support for the program, agreeing to pool their resources and come up with an education plan to fight substance abuse.
"No doubt we are doing a great job of responding to the calls," said Berkowitz, "but what are we doing to get to the root causes of the problem? Every town and city is going through this. We are no better or worse than anyone else, but I am tired of reading about overdose reports."
The coalition will include the two chiefs, Granatino, a member of the public health department, and parents and students.
Doody drew comparisons to the Canton Future Problem Solvers, who were in attendance to discuss their successful showing at the international competition in June.
"Ironically, this is like the Problem Solvers group," he said. "We are forming a group to solve a problem. We hope to get to the root of the problem, and we look forward to this collaborative effort."
"We go into this with our eyes open," Granatino added. "It won't be easy and it won't happen overnight, but we will work toward a solution."
In other news from Thursday night's meeting, Jen Henderson, Canton Public Schools' director of curriculum and instruction, presented a general overview of MCAS results from the 2012-13 school year. She will present a school-by-school analysis as well as plans for future improvement at the committee's next meeting on November 7.
Henderson emphasized that the district's curriculum is aligned to the state-mandated Common Core standards and grounded in college and career readiness while prioritizing the 21st century skills of critical thinking, communication and collaboration. "We are not teaching to the test," she said.
Henderson said one of the most important measures of MCAS performance is individual student growth, including growth in comparison to one's academic peers.
In an effort to address proficiency gaps and meet the goals set by the federal No Child Left Behind law, all Massachusetts school districts and schools have been classified into one of five accountability levels, with the highest performing in Level 1 and the lowest performing in Level 5. Henderson said the Hansen Elementary School achieved Level 1 status while the rest of Canton schools are currently at Level 2. Both Granatino and Henderson said the most immediate goal is to get all schools into Level 1.
(Click here to read the full state report on Canton's accountability levels)
Henderson said while many schools improved in many areas over the previous year, the most critical area of concern is in fourth grade math. Other areas that declined include middle and high school math, Hansen science, and Kennedy School English and math. There was also no change in improvement status at the Galvin Middle School.
On the bright side, Henderson said science scores at the JFK and the Luce were the highest they have ever been, while science at the middle school is "on target" and English at the high school is on or above target for all groups.
Especially with math, Henderson plans to ask each school if the "standards have been incorporated into all content areas and are they covered in curriculum mapping," which has been a point of emphasis among teachers this year across the district.
Henderson said the goal of curriculum mapping is to align what is taught to the standards and to develop a coordinated plan for all K-12 students in all major curriculum areas.
"Every teacher must look at their individual data, analyze it, trend it, look for patterns and meet as a grade level/content groups and discuss," she said.
Following Henderson's presentation, School Committee member John Bonnanzio indicated that he would like to see MCAS improvement goals incorporated into each of the school improvement plans. All except for interim Kennedy School Principal Sarah Collmer have presented their plans, and Bonnanzio asked that principals revise them to reflect the latest MCAS data.
Thomas echoed Bonnanzio's sentiments, noting that the committee could prioritize budget spending for the next school year based on the revised plans.
In other news:
* The School Committee welcomed 25 high school students from Bocholt, Germany, who are visiting Canton as part of the Canton-German exchange program. Organized by CHS teacher Elsa Nicolovios, the program is now in its 35th year and is the oldest exchange of its kind in the country. The students arrived in Canton more than 10 days ago and will return to Germany next week. Their stay has included trips to the Massachusetts State House, Plymouth, Harvard University, and New York City.
* CHS senior Dan Bronstein, a veteran of the Future Problem Solving program, announced to the committee that he will donate a recent competition plaque to the Luce School and Principal Robie Peter for inspiring him and other students to develop their critical thinking and problem solving skills. "The Luce School is where it all began for me," said Bronstein.
* Granatino thanked ServiceMaster for its recent donation of $2,000 worth of cleaning services to Canton High School.
Short URL: http://www.thecantoncitizen.com/?p=22862

Posted by
Mike Berger
on Oct 31 2013. Filed under
News
,
Schools
. Both comments and pings are currently closed.