Outside the Whale: Equal is Not Necessarily Fair
By
Tanya Willow
The Supreme Court is ruling on the constitutionality of California's Proposition 8 — a ballot that banned same sex marriage, and on "DOMA" (Federal Defense of Marriage Act). Advocates have called gay marriage today's civil rights issue. Under that analogy, anyone who opposes it is easily dismissed as a homophobic bigot. It has been a brilliant strategy to silence political opposition and it's working.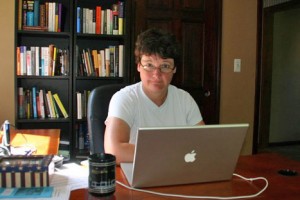 The young are overwhelmingly in favor of gay marriage and under the pressure, Republicans, terrified of becoming irrelevant, have petitioned the court in favor of it.
But gay marriage is not about equal rights; it's about money rights. Massachusetts can recognize same-sex marriages, but DOMA prevents same-sex couples from getting Social Security and federal benefits and pensions heterosexual couples get.
A year ago I went to a party that brought together old-timer women hockey players from a league that has played in Canton for 40 years, where both lesbian and straight couples were able to catch up on life's vicissitudes. I spoke to an opposite sex married couple who both had high-powered careers when they married and now have two young children.
Pregnancy was not easy for them. Her doctors told her to cut back on work, but she kept miscarrying. She kept cutting back her hours. She changed jobs. Over the span of ten years she was able to have two children, but her career (not his) never recovered.
I spoke to another friend whom I love but never call and had lost almost all recent news. She's still beautiful and energetic despite having her third child at nearly 50. The surprise child is in great health and though exhausted, she and her husband still get to the gym and try to stay fit. No, she no longer takes care of her best friend's baby during the day for a little cash — that child's in school now — but she's back to doing tax returns in the spring to help make ends meet.
Women often have to stop work near the end of pregnancy for health reasons. We have our organs placed on a table for cesarean births. Our bodies are sliced in vaginal birth. We breast feed, bleed, swell and are pushed to absolute exhaustion. We can carry for 12 hopeful weeks, only to stand in the early morning hours to find blood pooling at our feet. Then we must consider what trying yet again will cost. We fall down the career ladder, or in some cases, are never able to return to a "real" job. Women with husbands can wake up pregnant at 50.
To justify giving marital protections to same-sex couples, our culture must be taught to reject the physiological realities for women married to men. To that end the bridal gown needs to be re-tailored into a one-size-fits-all garment that no longer accommodates for hips or breasts, as they must be seen as inconsequential. The uterus — just like under the abortion debate — must be transformed into a discrete, separate vessel within our bodies that can be rented or legislated or made mute, depending on the current power brokers' needs of the moment.
Strategists know same-sex couples must be ushered into the marital institution — its very power rooted in its conventions — in order to gain the stature needed to access the financial securities membership has to offer. If all goes as planned, pairs of men who rent wombs at the most convenient times in their careers and collect the genetic package when the baking is done will have the right to the same economic benefits that were originally designed to protect pregnant women and their children. This would be "equal," but it is not fair. It is consistent with our Darwinian culture, where the powerful increasingly get the protections of the state while the vulnerable are increasingly exposed.
So then what about the lesbian couples? Their bodies go through the exact process as a heterosexual woman's. Shouldn't they get the economic benefits of marriage?
Also at the party was a woman who bought a home years ago with her sister. They combine their income for the needs of their house. One has far better health insurance than the other, though both contribute dearly to their employers for health insurance.
If we say that the lesbian couple should get all the same benefits as a heterosexual couple, including Social Security, pension and shared health benefits, then on what basis would we deny those same economic benefits to the sisters? A pair of women trying to make a home is a pair of women trying to make a home. Do we parcel out Social Security or pensions or shared health insurance based on where these women may put their heads down at night? Isn't same sex marriage based on dropping prejudice against sexual preference? Can we include abstinence as a preference?
While diminishing the biological distinctions between same-sex and opposite-sex coupling, gay marriage also needs to distinguish itself from inglorious same-sex cohabitation. For this strategy to work, no matter how irrational the justification, romantic love between two people needs to be the singular reason for the financial compensations of marriage.
Using this rationalization, lesbian women would get each other's Social Security, pensions and health benefits; all the securities convention can bring. Cohabiting old maid sisters — a pairing as established as marriage itself — would not.
All gay marriage has done is expand the marital club to conform to another specific kind of coupling, but it is still exclusionary. It has been a campaign won through a dismissal of longstanding tradition that was rationally rooted in biology. The prize is social sanctioning from the highest order with an important side order of financial protections. But let us not pretend that the prize is equality or fairness. Polygamists need not apply and old maids can fend for themselves.
Short URL: http://www.thecantoncitizen.com/?p=19967

Posted by
Tanya Willow
on Apr 11 2013. Filed under
Featured Content
,
Opinion
,
Outside the Whale
. Both comments and pings are currently closed.