Barnsley, Sidney O.
By
Canton Citizen
Sidney O. Barnsley, formerly of Canton, passed away on March 6, 2013, in Meredith, New Hampshire.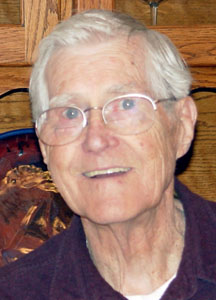 Sidney was born in Boston on October 8, 1923. He joined the Army Air Corps in 1943 and served as a B-17 pilot and saw duty in England. He married Carla Bergren on June 25, 1944, and they were posted to Roswell, New Mexico for the remainder of his tour. While in New Mexico, two of their children were born. They returned to Canton, where they lived until 1985.
Sidney was employed as a printer until 1967 when he changed careers and became a graphic arts teacher at Blue Hills Regional Technical High School. During their years in Canton, he was active in Trinity Episcopal Church and St. John's Episcopal Church in Sharon as a lay reader and Sunday school superintendent. They also had three more children during this time. He retired from teaching in 1985 and moved with his wife to Bethlehem and then Tryon, North Carolina.
In North Carolina, Sidney was an active volunteer. He volunteered at the pharmacy of local hospitals, was a SHIP volunteer and was active in the local AARP groups. Once in Tryon he continued his love of printing with a part-time job at the Tryon Daily Bulletin. While living at White Oaks Village, he was always quick with a joke and willing to lend a helping hand.
He was predeceased by Carla, his wife of 66 years. He is survived by his children: Sandra Berks Hicks (Ron Belanger) of Silver City, NM, Gordon Barnsley of Kemp, TX, Clifford Barnsley of Edgartown, Bradford Barnsley (Mary) of Bridgewater, and Melinda (Maryann) of Meredith, NH, as well as six grandchildren and three great-grandchildren.
A memorial service will be held on Friday, March 22, at 2 p.m. at the Episcopal Church of the Holy Cross in Tryon, NC. Interment will be held in the Memorial Garden at the Episcopal Church of the Holy Cross.
In lieu of flowers, Sidney has requested that donations be sent in his memory to his Bombardment Group: 91st BGMA Inc., c/o Jody Kelly, 3829 Sunset Lane, Oxnard, CA 93035-4135.
For Sidney's Book of Memories, visit www.mayhewfuneralhomes.com.
Short URL: http://www.thecantoncitizen.com/?p=19469

Posted by
Canton Citizen
on Mar 14 2013. Filed under
Obituaries
. Both comments and pings are currently closed.