MAC: Canton Man is New Stoughton Town Manager
By
Joe DeFelice
DID YOU KNOW …
Stoughton selectmen voted 5-0 to appoint Michael J. Hartman of Canton as Stoughton's next town manager. Hartman has been the town manager in Jaffrey, NH, since 2007. Before that he was the town administrator in Wareham (2001 to 2007) and Medway (1998 to 2001). Hartman replaces interim town manager Joshua Feaster, who took over in April 2012 after Francis Crimmins resigned.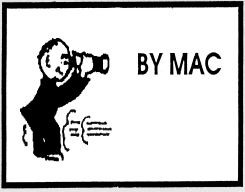 Canton public school students fared above the state average on all three phases of the MCAS tests. The MCAS measures the student's ability on reading/English language, mathematics, and science. The tests were administered to grades 3, 4, 5, 6, 7, 8 and 10. In English language, Canton students averaged 85 percent while the state average was 69 percent. In math, 74 percent of Canton students scored proficient or higher while the state average was 59 percent; and in science, Canton students averaged 71 percent while the state average was 54 percent. So overall, Canton public school students are doing very well in the MCAS testing.
Gas prices have risen more than 50 cents per gallon in the past two months, which drove the biggest one-month increase in overall consumer prices in three years. What most consumers and MAC can't figure out is this: If the price of a barrel of oil is going down, why does the price of gas at the pump keep going up? Some economists blame it on the drought this past summer while others blame it on the higher cost of summer blends of gasoline, formulated to reduce pollution. Prices are expected to drop as refiners switch to selling winter blends of gasoline, which are cheaper. MAC will believe it when he sees it.
Comic Bill Burr, 44, brother of Canton Selectman Bob Burr, recently made news in the August 20 edition of the National Enquirer as "getting cozy" with actress Sandra Bullock. Bill has appeared in the 2005 HBO series "One Night Stand" and the 2010 Comedy Central special "Let It Go." He has also done his standup act on late night talk shows and landed several TV guest spots, including a recurring role on the series "Breaking Bad." According to the National Enquirer, Bullock and Burr became fast friends on the Boston set of their buddy comedy, "The Heat," and pals fear the Oscar winner could be falling for him.
Forty-eight percent of American adults and 25 percent of children and teens younger than 18 take at least one prescription medication, according to a study by the National Center for Health Statistics.
Kathy Purdy and Karen Ronayne were the coaches of the American Legion team that finally captured the Canton Women's Softball League championship.
Workers receiving Social Security benefits between age 62 and full retirement age can only earn $14,640 during 2012. Once you reach the full retirement age of 66, the earning limit goes away, and you are free to earn as much as you like without penalty.
The Canton High School Alumni Association, in conjunction with the Chateau Restaurant in Stoughton, will hold its annual fundraiser on Wednesday, October 24. It works this way: When you, your family, or friends eat anything on the Chateau's menu anytime on October 24, the Chateau will contribute to the Alumni Association 20 percent of your total bill. So mark your calendar for Wednesday, October 24, to eat out at the Chateau in Stoughton.
New York City Mayor Michael Bloomberg is at it again. This time, his latest health campaign is aimed at public and private hospitals where he wants to banish sugary and fatty foods. Many of the city public hospitals have already cut calories in patient meals and restricted the sale of sugary drinks and unhealthy snacks at vending machines, but now the city and Bloomberg are tackling hospital cafeteria food. Deep fryers will be banned, and fried chicken and French fries are out. By the way, Mayor Bloomberg was listed on the Forbes 400 as the 10th richest man in the United States with an estimated net worth of $25 billion.
The town of Canton uses an average of 2.4 million gallons of water on a daily basis. Seventy-five percent of this water comes from town wells, and the remaining 25 percent is supplied by the Mass. Water Resources Authority (MWRA).
For $10, a senior over age 62 can buy "The America the Beautiful Senior Pass," which provides a lifetime entry to 2,000 national parks and recreational sites.
There are things that we never want to let go of, people we never want to leave behind; but keep in mind that letting go isn't the end of the world, it's the beginning of a new life.
This is all for now folks. See you next week.
Joe DeFelice can be reached at manaboutcanton@aol.com.
Short URL: http://www.thecantoncitizen.com/?p=16782

Posted by
Joe DeFelice
on Oct 18 2012. Filed under
Featured Content
,
Man About Canton
,
Opinion
.