Canton triathlete joins the fight against ovarian cancer
By
Jay Turner
Between a recent outreach trip to Kentucky with the St. Gerard's youth program and an impressive showing at last month's Falmouth Sprint Triathlon, Mary Kate Morrissey has had a busy and memorable summer — and it's not over yet.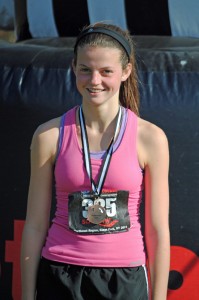 In fact, over the next 32 days, the 16-year-old Canton resident will compete in three more triathlons, including the USA Triathlon Olympic Distance National Championship in Burlington, Vermont, all while raising money and awareness for ovarian cancer through the Dana Farber Cancer Institute's "Running the Race Against Cancer" program.
As she noted on her personal donation page at rundanafarber.org, Morrissey will be swimming, biking and running in honor of the "many moms affected by this disease," with her sights set on the "ultimate finish line: a world without cancer."
"I plan to 'Tri Hard for Cancer' by racing in four triathlons this summer," explained Morrissey, who is entering her junior year at Newton Country Day School. "I will keep you posted on my results and hope you will show your support by making a small donation to my page."
An accomplished triathlete with more than a dozen races under her belt, Morrissey is coming off an excellent performance in her first race of the season at Falmouth, where her time of 1:10:49 topped the field in two age groups (16-17 and 18-19). Her next race is the Sharon Triathlon on August 12, followed by the USAT event on August 18 in Burlington. She will then wrap up the summer season with the Title IX Women's Only Triathlon in Hopkinton on September 9.
Morrissey said she is looking forward to all three of her remaining races, but she is particularly excited about her first USAT race, where she will compete against other top triathletes from around the country on an Olympic distance course. The event, which is the only USAT national championship that requires a strict qualification, consists of a 1.5k swim in Lake Champlain, a 40k bike and a 10k run.
Of the three race components, Morrissey described cycling as the most challenging and running as the most enjoyable. She also enjoys swimming and gets a lot of practice as a member of the Canton Dolphins swim team and as a lifeguard at the Ponkapoag Civic.
In addition to her athletic pursuits, Morrissey is also deeply committed to community service and outreach — values that were instilled in her at home and at school and nurtured through her involvement with the youth program at St. Gerard's.
As for her decision to use her races as a fundraising platform, Morrissey said it was her mother, Stephanie, a research nurse at Dana Farber, who inspired her to join the fight against cancer.
"My mom has been a nurse at DFCI for many years and has told me stories of her courageous patients and their families," noted Morrissey on her fundraising page.
Stephanie, who previously worked on mostly prostate and kidney cancers, has recently switched her focus to women's cancers, and the experience has had a profound effect on both mother and daughter.
"I'm now taking care of my peers' moms," said Stephanie. "I have a 30 year old and I have friends in town [who are patients], and it's really hard."
Morrissey said she chose to focus on fundraising for ovarian cancer after learning more about the disease from her mother. She learned, for instance, that it gets less press and therefore less funding than breast cancer, and that it is known as the "silent killer" because the symptoms are often very subtle, making early detection very challenging.
She also learned about the cutting-edge research being done in this area, including the work of Dr. Ursula Matulonis, who focuses on gene mapping and finding tumor markers for gynecologic malignancies. Inspired to contribute, Morrissey chose to donate all of her proceeds to Dr. Matulonis' research fund.
Her mother, who is familiar with Dr. Matulonis' research, is involved with similar studies, including a current clinical trial focused on breast cancer patients.
"People come to me to try these new drugs that may be the future of cancer treatment," explained Stephanie. "A lot of times these patients are selfless. They know they may or may not help themselves, but they may be able to help the next person."
And that next person, as Stephanie is quick to point out, could be a family member, a friend, or a neighbor, since cancer clearly does not discriminate and impacts "all walks of life."
"I can, on any given day, go into work and see someone from town," she said. "I'm not exaggerating. It's sad."
Even her children — not just Mary Kate, but Erin, 14, Kelly, 11, and Patrick, 9 — have known people in the community who have been touched by cancer. Among them was Annette Kelly, a popular pre-kindergarten teacher at St. John the Evangelist School who lost her battle with ovarian cancer in January. All four of the Morrissey children have attended St. John's, and Erin, who graduated from the school in June, was named the recipient of the first-ever Mrs. Annette Kelly Scholarship.
It is for people like Mrs. Kelly as well as all of the other mothers, sisters and daughters out there that Morrissey has chosen to "Tri Hard for Cancer," even if it means getting a bit more attention than she is used to.
Already she has raised over $1,500 through word of mouth, and she's determined to meet or exceed her goal of $2,000 by the close of the fundraiser in October.
After all, as she noted on her fundraising page, "no donation is too small" and "every dollar counts toward finding a cure."
To donate to Morrissey's "Tri Hard for Cancer" campaign, visit her personal donation page at rundanafarber.org.
Short URL: http://www.thecantoncitizen.com/?p=15537
Posted by
Jay Turner
on Aug 8 2012. Filed under
Features
.