Joys & Memories of Summer Baseball
By
Guest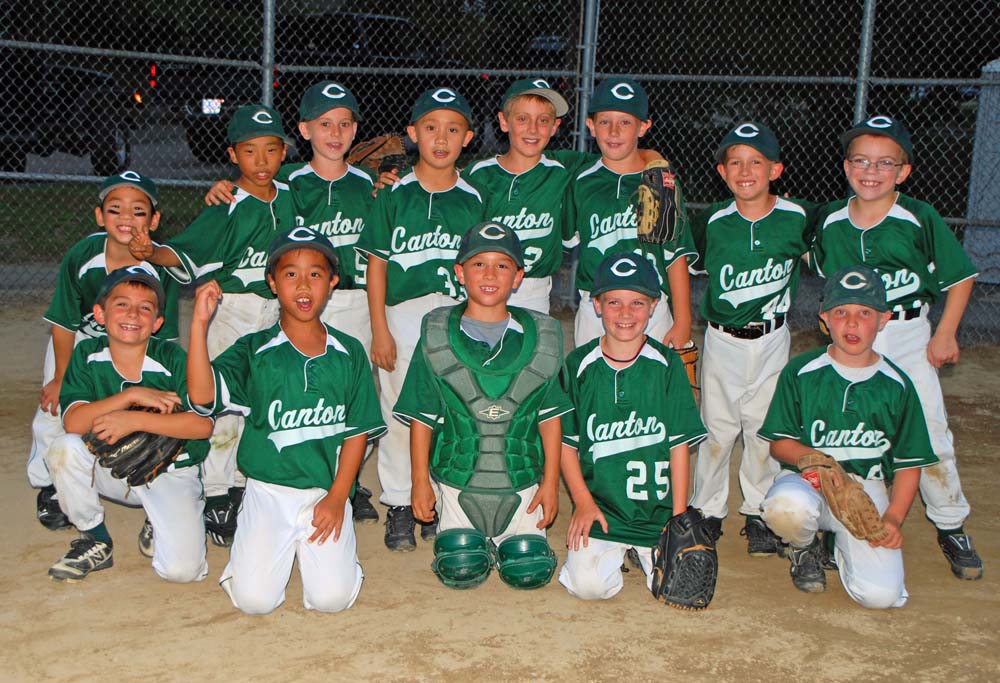 Submitted by Andrew Bonanno
Long summer days, plenty of sunshine, a group of great kids, and baseball — this is the stuff that lifelong memories are made of.
Summer travel baseball is both a serious and rewarding commitment for the players as well as the parents. It is a fun and competitive environment between neighboring towns that encourages learning the game of baseball and ultimately winning games.
The Canton summer baseball team (8 and 9 year olds) is a close-knit group of players, parents and coaches who have formed a bond over the past six weeks of practicing, playing, and traveling to compete — and enjoying every small achievement along the way. With every strike pitched, every catch made, every hit, every walk, and every great throw, we have watched this group of 14 kids grow as a team and as friends.
Coached by Drew Bonanno, Carmen Ferrara, Steve Gefteas and Dave Rosati, and assisted by Dan Schnock, Mike and Lynne Valkanas, John Leonetti, Andy Morgan, and John Peltier, the team came together to learn the game of baseball and win games. This team has done just that. It's been a rewarding season for us all.
With the excellent pitching and fielding of Michael Leonetti, Andrew Middleton, and Max Schnock, we ended the regular season in third place with an overall record of 5-3. The games that were lost were very close and could have gone our way with a couple of plays made or a call from the umpire.
The team boasted an outstanding defense behind infielders Andrew Valkanas, Nico Bonanno, Will Ferrara, and Colin Albert, and outfielders Michael Rosati, Will Gefteas, Nathan Mei, Jake Morgan, Drew Peltier, Wes Lee, and Chris Buettner. Lee and Buettner also spent time at catcher along with Valkanas and Albert.
We vividly recall the first exceptional play of the season. A well-hit ball to right field was fielded by Rosati, who threw it to Albert, the second baseman. Albert then instinctively, and without hesitation, turned and made a perfect throw to Valkanas at the plate. Nicknamed "Salti," Valkanas knew to block the plate and tagged the runner out.
We ended our first playoff game with the same play from Ferrara, the third baseman. He fielded the ball, waited for the runner to round third, trapped him between the bases, and threw the runner out at the plate with Valkanas making the tag. We have had a season of many amazing defensive plays on the field — diving catches made by Middleton, Bonanno, and Schnock; Mei, Peltier, Morgan, and Gefteas fielding big outfield hits and keeping the runners from scoring. Yes, we have a lot to be proud of.
Everyone contributed at the plate as well. Led by the homerun hitting of Middleton, who had a homerun and two doubles in one game, our offense put up enough runs to either keep games close or win. We knew we could count on Schnock and Leonetti for big hits in every game. With speed and determination, the excellent base running of Bonanno, Mei, and Morgan helped pile on the runs. Our batters waited patiently for good pitches to hit and frustrated the opposing pitchers by drawing walks — only to have someone like Albert come to the plate and hit a bases-clearing double, as he did to score the winning runs in our first playoff game.
We won our first playoff game against Walpole by a final score of 6-3. We next face Easton on their home field in the Bay State American semifinals.
Yes, this is the stuff great memories are made of. That's summer baseball.
Short URL: http://www.thecantoncitizen.com/?p=15374

Posted by
Guest
on Aug 1 2012. Filed under
Featured Content
. Both comments and pings are currently closed.