Future looks promising for Canton rock trio
By
Jay Turner
If the world is indeed set to expire on December 21, 2012 as some have predicted, then Canton rock trio Metaphor for Everything is ready to go out with a bang, having already written the perfect anthem for the occasion.
The band's latest single, "2012," tackles the impending apocalypse head-on, satirically dismissing concerns such as the melting of the polar ice caps and the dream of world peace, while boldly proclaiming in the opening lines that "I've given up and it feels great."
Written by Metaphor's singer/guitarist Brett Greene, "2012" is at once heavy and light — a catchy, fast-paced blend of dark humor and existentialism that is about "giving up on the world because you buy into the apocalyptic vision."
"The song is really a satire on this collective idea of an apocalypse," explained Brett, who was voted "Most Original" in the Canton High class of 2002. "It's [rooted in the] hope that we can start to overcome this obsession with our own mortality and come up with a sustainable, collective way of dealing with our planet and ourselves."
The popular three-piece outfit, which also includes Brett's brother Eric (CHS '04) on drums/vocals and Steve Post (CHS '01) on bass/vocals, was planning to release "2012" sometime this week on their Myspace and Facebook pages — just in time to build some hype for their show next Friday at the Middle East Downstairs in Cambridge.
The June 22 show, dubbed "Countdown to the End of the World," will be the band's biggest to date and also their first-ever appearance at the famous Downstairs, which is arguably the most important venue on the Boston music scene. Metaphor for Everything will headline the 18-plus event, which will also feature performances by Run Gazelle Run, Hot Molasses, and The Brother Kite.
"We've paid our dues like everybody else," said Eric, yet another "Most Original" as voted by his CHS classmates. "By the time I joined [Metaphor], we were already getting Friday and Saturday night gigs in the city. We've since played a lot of clubs around Boston, including All Asia, the Middle East Upstairs, T.T. the Bears, and the Cask'n Flagon."
Amazingly, Eric had never even played the drums until one random afternoon a few years ago, when he "hopped on the drum kit and started jamming out" with Brett and Steve, who had just recently started playing together themselves after running into one another at UMass Boston.
The two friends had played together years earlier as part of an avant garde jazz/rock project, but they had not seen each other since shortly after high school. By that time, Steve had not played any kind of rock music in years, having instead gone off to UMass Amherst, where he studied the violin and later the viola.
Although the two had drifted apart, Steve said he had always loved Brett's songs and they were never too far from his mind. "They're the kind of songs that you hear once and they're in your head," he said. "They had always stuck with me, and I was always convinced that his songs were great."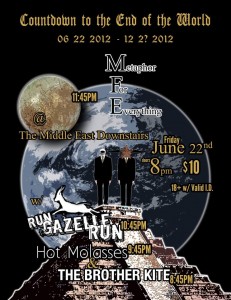 The reunited duo auditioned several drummers and even hired a session drummer before "discovering" Eric, whose signature sound seemed to fit the band like a glove.
"I had never really thought of him as a drummer," admitted Brett of his brother. "It was sort of this psychic conclusion that we all kind of came to."
The current iteration of the band boasts a unique sound that is not "easily classifiable," according to Eric. However, they are greatly influenced by classic rock, including bands such as the Beatles, the Grateful Dead, and especially The Band, as well as more modern groups such as Ween and the Flaming Lips.
"We have soft songs; we have loud songs," explained Eric. "We have slow songs; we have fast songs. No two of our songs sound the same. We really run the gamut."
They currently feature four original tracks on their myspace page, and Steve did the recording and sound engineering on all of them. Brett said Steve does "amazing" work and described him as the "glue that holds the band together."
At the same time, all three members agreed that their greatest strength lies in the songwriting — something they feel is missing in a lot of popular music today.
Brett, who has written a lot of the band's music, seems to gravitate toward satire as well as themes that he described as "purely universal," including the "struggle between what we imagine we should be and what the reality of life is."
And while the lyrics are often quite deep, much of their music has a "poppy" sound that appeals to a broad base of listeners — including Steve's 5-year-old daughter Ceylin, who counts the Metaphor song "Holidays and Rotating Doors" among her favorites.
The band is currently hard at work on a full-length concept album, entitled "The Firehouse is Burning," which focuses on the "realization in this recession that we're not in control … and the need to accept we're not in control and live with what we have."
As for their long-term aspirations as a band, all three members have a lot of faith in their ability and would jump at the chance to reach the "next level" if the opportunity presented itself. However, they also strongly believe there is more than one way to "make it," and they are more than happy to go at their own pace, which to them means building a loyal following and "never compromising at all."
"Right now, we're building it up," said Brett. "We're building the foundation, and we hope that at some point we get to take that and make it bigger than ourselves. We all really, really love this music. We love our songs and we believe in our music."
Click here to order advance tickets to the June 22 show, "Countdown to the End of the World."
Short URL: http://www.thecantoncitizen.com/?p=14379
Posted by
Jay Turner
on Jun 13 2012. Filed under
Features
.