Boys' lacrosse team continues turnaround with 2-1 week
By
Jay Turner
After losing five of six games to open the season, the Canton High boys' lacrosse team has quietly rebounded in recent weeks, winning four of its last six contests, including road victories last week over North Attleboro and Oliver Ames.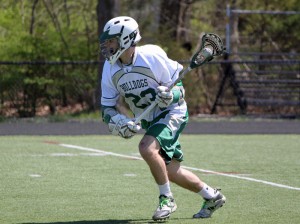 The Bulldogs are now 5-7 overall with four games to go and can still finish as high as second in the Davenport Division with a win this week over Sharon. They also still had a shot at the postseason going into the week, needing a victory over nonleague Abington to clinch a spot in the Division 3 south tournament.
Last week the team played all three of its games away from Canton and still managed to come away with a pair of wins. The Bulldogs' lone loss occurred last Wednesday against a very good Franklin squad, which doubled up the visitors by a final score of 10-5.
Head coach Bill Bendell had described the results in that game as "appropriate" given the talent of the opponent. What was a little more surprising was Monday's final against North Attleboro — a 15-14 nail biter that should have been a comfortable win for Canton.
Ironically, the first game between these two teams, played just days earlier at NA, was dominated by the Red Rocketeers until the final quarter, when the Bulldogs pulled off an improbable comeback to win 10-9.
The opposite happened in last week's rematch — Canton owned the first three quarters and led 14-9 going into the fourth quarter when NA finally made its run, scoring three times in the last minute of regulation to make it a one-goal game.
NA even had a shot at the buzzer to tie it. Luckily for Canton, however, senior goalie Devin Costa was there to make the save and preserve the "nerve-wracking" win.
After the game, Bendell agreed that it was far from an ideal victory. "You never want it to come down to that position," he said. "We played three strong quarters, but in the fourth we started making silly mistakes, took some ill-advised shots, and forced some passes. Also, North Attleboro started winning faceoffs and outhustling us."
The Bulldogs' leading scorer for the game was junior Pat Ward, who finished with four goals and two assists. Ward, who actually started the year in net, has been the team's best offensive player over the past handful of games, netting 10 goals last week alone.
Junior JC Marcone also had a big game against NA with three goals, and senior captain Matt Malloy finished with four assists. Other goal scorers for Canton included sophomore Ben Lodge and freshmen Tommy Galvin and Paul Swart.
In other action last week, the Bulldogs took care of business against a struggling Oliver Ames team, winning 9-2 in a game in which Bendell relied heavily on his reserves. The game was never close, as Canton scored five early goals and led 8-1 after three quarters.
Ward led the team with four goals and an assist, while Galvin, Nick O'Connor and Will Biggers added one goal apiece. Other players who impressed Bendell in the win included defensemen Quinn Merrigan and Tyler Murphy, along with Jake Paschal, Kevin McNeil, and Casey Dwyer.
The Bulldogs had just one game this week — the all-important D3 showdown with Abington on Monday at home. They will then host Foxboro next Monday and Sharon next Wednesday before wrapping things up in Milton on Saturday, May 19.
Short URL: http://www.thecantoncitizen.com/?p=13513
Posted by
Jay Turner
on May 9 2012. Filed under
High School
,
Sports
.