Squirt B's capture South Shore Conference title
By
Guest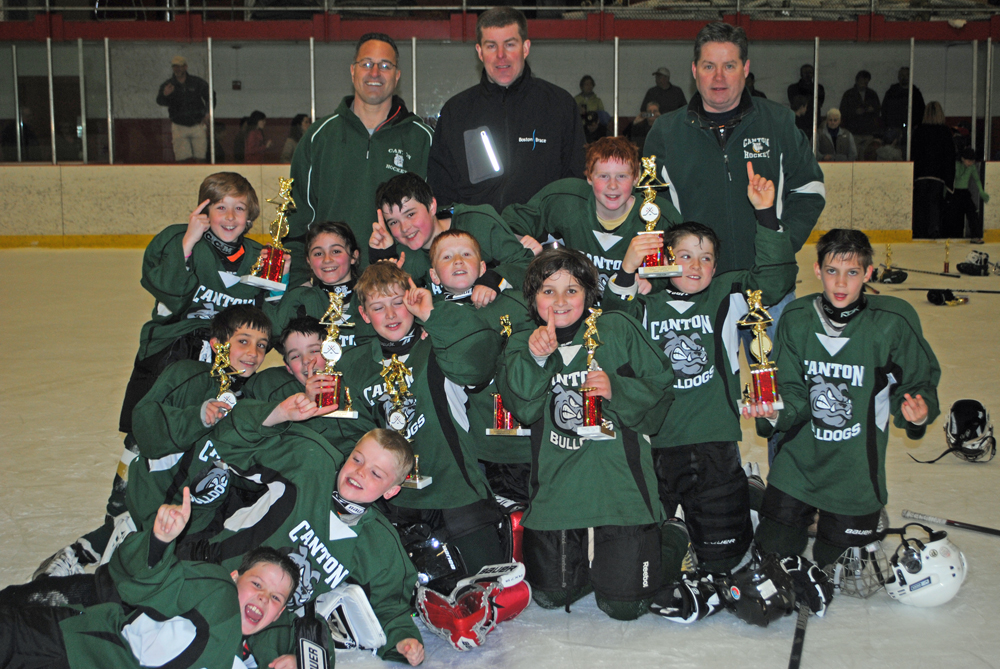 Before a packed house at the Sportsplex on Saturday, April 7, the Canton Squirt B Green Bulldogs took home the South Shore Conference Squirt B North Championship with an exciting 3-2 victory over Hanover in triple overtime.
Having won their first two playoff games in single and double overtime, the team gathered for the final pre-game "I believe we can win" chant before heading out to the ice. Hanover struck first with a power play goal midway through the opening period to take a 1-0 lead. In the second period, Connor Hall tipped in a blistering wrist shot from Lauren Fitzpatrick to get the Bulldogs on the board and tie the game at 1-1.
Hanover took the lead again 2-1 with another power play goal in the second period. However, with solid two-way hockey, Ronan O'Mahony, Sean Benson, Dalton Thomas, and Cole Ashe helped keep Hanover off the scoreboard while coming close to tying the game, with several opportunities turned away by the Hanover goalie.
Down a goal with the championship on the line, the kids screamed their motto of "I believe" in the huddle to get ready for the start of the third period. The message worked as Canton came storming back again. Assisted by Tommy Ghostlaw and Owen Lehane, Sean Sullivan put the tying goal home to draw the teams even. The score stayed at 2-2 throughout the remainder of regulation, sending the game into overtime.
Both teams had scoring chances in the first two overtimes, but Canton's defense, led by Kyle Fitzgerald, Max Carlino and James Murphy, kept the explosive Hanover offense off the board. In the third overtime, Hanover had several chances in front of the Canton net only to be denied by the superb goaltending of Lucas Bryant.
With less than a minute left in the third overtime, Hall stole the puck from a Hanover defenseman, went in alone, and deked the Hanover goalie for the game winner. The Canton kids stormed the ice and celebrated their SSC championship victory.
Coaches Derek Ghostlaw, Jerry Lehane, and Scott Fitzpatrick would like to thank the Canton supporters for rooting the team to victory in the final. They would also like to thank their mascot, Dan "The Stickman" Hall, for his magic touch with the players' sticks! More importantly, a big thank you goes out to the parents and kids for a tremendous season.
Team roster: Cole Ashe, Sean Benson, Lucas Bryant, Max Carlino, Kyle Fitzgerald, Lauren Fitzpatrick, Tommy Ghostlaw, Connor Hall, Owen Lehane, James Murphy, Ronan O'Mahoney, Sean Sullivan, and Dalton Thomas; coaches: Scott Fitzpatrick, Derek Ghostlaw, Jerry Lehane
Short URL: http://www.thecantoncitizen.com/?p=13050

Posted by
Guest
on Apr 18 2012. Filed under
Sports
,
Youth Sports
.