Canton middle schooler takes 3rd at youth wrestling sectionals
By
Canton Citizen
After three hard years of wrestling, Rob Dicalogero, or "Dical" as his friends and coaches call him, is finished with his successful youth wrestling career and is ready to enter the high school to compete again.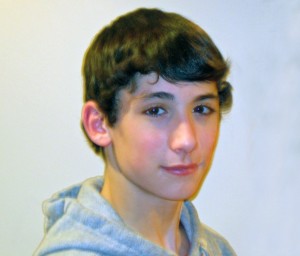 Dicalogero started out as a sixth grader to try the sport after going to a Canton clinic a few years earlier. He discovered he really enjoyed the challenge of the sport and continued to train and work on his technique. He improved steadily and saw the fruits of his labor this year, as he went 27-5 with a third-place finish in the 110-pound class at the Youth South Sectional Tournament.
"Dical really improved over the years, and although he still has a lot to learn, the strides he made will help him immensely at becoming an effective high school wrestler," said Brian Caffelle, head of the Canton wrestling program. "He competed all over the place, as his fellow teammates of the past — now high school wrestlers — did when they were in the youth program to gain more experience.
"From tournaments in Carver to the 'Friday Night Fights' in Franklin, getting good competition throughout the year provides instant feedback on what he did well and, more importantly, what to improve on to be ready for the next step. Canton High freshmen Chris Sullivan and Quinn Merrigan can attest to having plenty of success in their first year of varsity level wrestling due to their hard work in the youth level, and it looked like it rubbed off on Rob."
"I remember when he came out for the team and how inexperienced he was," remarked coach Sean Rockwell. "But he had a lot of athleticism. He didn't look like a wrestler then, but now he is looking like someone who is going to bring a lot to the table next year when he is in the high school. I think we're all excited for him to get up here."
Dicalogero's success, as both coaches describe, will hopefully get other kids to gain an interest in wrestling at a younger age.
"Some of the best wrestling programs came about through strong youth wrestlers," Caffelle explained. "It will never be easy to get children interested in a sport that isn't main stream. The hope, however, is to show these kids that anyone can wrestle and find success like Dical did because it is an extremely fun and rewarding sport."
Added Rockwell, "Overall, this is a step in the right direction for not only the program, but the sport itself to have kids like Dical start before they reach the high school. He deserves a lot of credit for everything that he has done over the past three years."
Both Rockwell and Caffelle agree that Dicalogero had an excellent season and will no doubt make many contributions to the CHS wrestling program as he gets older.
Short URL: http://www.thecantoncitizen.com/?p=3783

Posted by
Canton Citizen
on Mar 17 2011. Filed under
Sports
,
Youth Sports
. Both comments and pings are currently closed.