Former CPD employee counts her blessings this holiday season
By
Jay Turner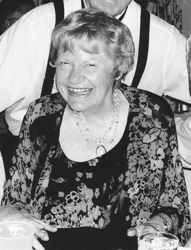 On Thanksgiving Day, longtime Canton resident and culinary aficionado Barbara Smith got up early and prepared a full turkey dinner with all the fixings. It was for her daughter Kim and her grandchildren Sarah and David, and as far as big holiday meals go, it was, in Smith's eyes, her "last hurrah" in the kitchen.
For as much as Smith still loves to cook, she knows full well that it is not as easy as it once was – not with the tanks and tubes from her round-the-clock oxygen therapy now getting in the way. Besides, she is hoping to avoid another hospitalization after enduring back-to-back stays in October and November, the last one prompted by an oxygen-level reading near 80 following a light workout on the treadmill.
While such occurrences are rare these days – thanks in large part to an extended rehab stint at New England Sinai Hospital in Stoughton – they are also to be expected for someone with Smith's diagnosis. Her condition, known as interstitial pulmonary fibrosis, is a chronic, progressive form of lung disease that produces irreversible scarring, which not only limits breathing but restricts the flow of oxygen to the bloodstream. Unlike other interstitial lung diseases, there are no known causes or treatments for IPF, and the prognosis is generally poor.
In Smith's case, the doctors gave her nine months of life around the time she entered Sinai last March – roughly nine months ago. And yet, in spite of all she has been through and will continue to endure, she has managed to remain active and incredibly upbeat, while still possessing a great sense of humor.
"I know full well, obviously, what the end result is; it's a terminal disease and it will happen," she said. "But I can tell you one thing, if anyone brings a rocking chair into my house and expects me to sit on it, there's no way, and they're going to end up wearing it on their head."
For Smith, perhaps the toughest part of the whole ordeal, aside from the physical symptoms, has been learning how to accept help from others. She said it was especially tough when the offers came from the Canton Police Department, where she had worked for many years as secretary to the chief.
"To me, I had been almost like a mother figure to those police officers," she explained. "How could I face them again? I figured that if I was so needy myself, how could they feel comfortable going to me with their problems?"
Eventually, Smith relented, and it was a good thing, too, because people on both the town side and at the Police Department were determined to help. They brought regular dinners – police officers on one night a week and the women at Town Hall on a separate night. DPW Operations Manager Danny Teague even came and cooked in her kitchen, and Smith said he made "the most fantastic omelets."
"How blessed am I, really?" she said. "To have people do those things for me, it's just so wonderful."
Smith said that she "absolutely loved" working for the town of Canton, including her time with the Finance Department, as well as all those years alongside Police Chief Peter Bright in a closet-sized office on Revere Street. She also loved to bake, and as a result, Thursdays turned into "goodie day" down at the police station – a tradition that continues to some extent even today.
Following her retirement from the department, Smith turned to another love of hers – her cottage overlooking Sebago Lake in Maine. It was in Maine, in fact, during her second year of retirement, when she began feeling pain in her side after long walks.
She eventually sought out medical attention, and after a battery of tests lasting several hours, she received the news that it was lung disease.
"I thought, 'How can that be?'" said Smith, recalling her reaction to the diagnosis. "I mean, I'm active. I'm a walker. I feel too good."
The next several months were a rollercoaster of hospital visits and trying to manage symptoms. By the time she was admitted to Sinai for long-term rehabilitation, doctors had already informed her that there was little they could do.
Looking back on it now, Smith credits the doctors and nurses at Sinai with saving her life. She was there for four weeks in all, and by the end of her stay, she was stable and ready to resume her normal activities.
"To think, you're coming from hospice – from hospice – and you can go home and do anything," she said. "I never got such good care. The people there were wonderful."
Still, the next several months were a struggle for Smith, especially with regard to the oxygen equipment, as she felt it diminished her in some way. She was even embarrassed to go out in public – to the point that if she drove through downtown Canton she would take the tubes out of her nose.
At the time, she thought that people would gawk and stare if they saw her; she now admits she was wrong.
"I said to myself, 'You need it, and this is what keeps you going, so accept it.' And I finally have," she said.
These days, Smith is happy with who she is, and she tries to make the most of every day – even if her "lovely little disease" forces her to improvise.
For instance, on Thanksgiving, knowing she would not be making the trip to her daughter's house in Vermont this year, she decided to have two holidays at once. So they enjoyed her home-cooked dinner, then they all celebrated Christmas together, complete with presents and an imaginary "three-and-a-half-foot, beautiful, lighted Christmas tree" that sat proudly atop the table.
As for Christmas day itself, Smith already has four offers for dinner ("How great is that?"), and she just found out that her grandson Bobby – whom she raised, along with her late husband, Bill, from the time he was a toddler – is coming home for the holidays.
According to Smith, she and Bill had the "ride of [their] lives" raising Bobby, who is now a petty officer in the Navy. There were so many special moments – between the three of them, between herself and Bill, both here in Canton and out on the lake.
And that is what she chooses to focus on this Christmas – not her medical condition, or how much time she has left on this earth, but all of those "wonderful, wonderful memories" of time spent with loved ones.
"Life is good," said Smith. "It really is."
Short URL: http://www.thecantoncitizen.com/?p=1
Posted by
Jay Turner
on Dec 16 2010. Filed under
Citizen Classics
,
Features
. Both comments and pings are currently closed.