Off to a 5-0 start, CHS boys' soccer team continues to roll
By
Jeffrey Pickette
With wins over Stoughton, Medfield, and Sharon last week, the Canton High boys' soccer team has now gone a full calendar year without losing in the regular season. After falling to Oliver Ames 2-0 September 21, 2009, the Bulldogs have gone on an impressive 15-0-3 run, including a 5-0 start this year.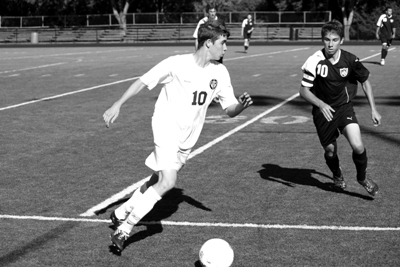 Canton's offense exploded in last Monday's home opener against Stoughton, with the Bulldogs beating the Black Knights 7-0. The team held on for 1-0 wins at Medfield last Thursday and against Sharon last Saturday.
"I think it was a great week because we showed ourselves that we can certainly generate offense, and at the same time, we showed that we can gut out close wins," head coach Danny Erickson said.
Canton has notched four straight shutout wins, having not surrendered a goal since 10 minutes into the season opener at Duxbury, a span of almost 400 minutes.
Goalie Colby Gavigan has been a big reason why the team has maintained this shutout streak.  While Canton controlled possession for most of the Stoughton game, Erickson said Gavigan made some key saves down the stretch in the close wins over Medfield and Sharon.
Against Stoughton, Ambrosio scored the first two goals, converting passes from Michael Denehy and Scott Levy, respectively. Denehy then recorded a hat trick, scoring the next three goals, assisted by Ambrosio, David Feeney, and Jimmy Kelly.  Freshman Eric Wong got some playing time to close out the game, scoring the final two goals.
In a battle of unbeatens in a non-league game at Medfield, Ambrosio secured a Canton victory, heading in Chris Murray's throw-in halfway through the first half for the only goal of the game. On Saturday against Sharon, Ambrosio finished off a corner kick from Matt Malloy halfway through the second half for the only goal of that game. After a relatively slow start to the season, Erickson said Ambrosio, who netted four goals last week, is "waking up."
"Everybody knows how dangerous he can be and he's been scoring off restarts, off of corner kicks the last couple of games, which is something that hasn't been in his repertoire over the years," Erickson said. "So to see him start to become that guy that we can go to on those really makes him a double threat because he's always been dangerous in the flow of play."
Canton hosted Foxboro on Wednesday and will host Silver Lake Regional on Friday in a non-league matchup.
Short URL: http://www.thecantoncitizen.com/?p=2585

Posted by
Jeffrey Pickette
on Sep 30 2010. Filed under
High School
,
Sports
. Both comments and pings are currently closed.