Canton native Helen Goransson exorcises ghost with her latest book
By
Jeffrey Pickette
She heard stomping footsteps when there was no one upstairs; she heard music playing and other "funny sounds" when it should have otherwise been silent; she would turn on a light, only to find it mysteriously turned off a short time later; she would find doors that should be locked suddenly swung wide open.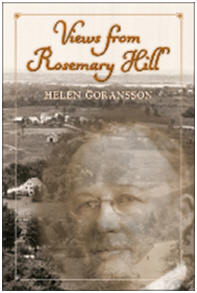 These were just some of the odd occurrences that took place from time to time at Helen (Gerzon) Goransson's farmhouse in Eliot, Maine. The Canton native bought the house with her husband Paul, also a Canton native, 25 years ago.
"We always thought the place was a little bit creepy," Goransson said. "And then we had some strange things happen that were sort of inexplicable, so we said it must be ghosts, half jokingly; we're too smart to believe in ghosts. And over the years it just became more and more insistent that these are not all coincidences if you have hundreds of them."
If you suspected that there was a ghost haunting your house, maybe you would consider hiring an exorcist or may even consider moving. Instead, Goransson got to know her ghost and wrote a book about him, Views from Rosemary Hill, published this August.
After moving into the house, Goransson found an old plaque that belonged to Sylvester Bartlett. She went to the local library to research this man and found out he used to own her farmhouse. However, over time she determined that her ghost was not that of Sylvester's, but rather that of his son, Ralph Bartlett (1868-1960), a successful 20th century lawyer and socialite.
Much to Goransson's delight, Ralph Bartlett left behind plenty of primary sources in the forms of letters, travel diaries, and even yearly updates he would send to his alma mater, Dartmouth College. After putting all the clues together, she came to the conclusion that there was a "mystery Ralph had to keep to himself to his dying day that he wants the world to know."
Through her research, it turns out Bartlett is connected to Goransson in more ways than just the fact that they lived in the same house, albeit more than 100 years apart. Bartlett had been to the towns in Europe where both of her parents were living at the time; he was in Russia at the same time her grandfather played in the Czar's orchestra; he had visited the same café in Monaco that Goransson and her husband had visited years later.
"It's weird interrelationships like that that are very odd coincidences," she said.
Views from Rosemary Hill "chronicles the history of the [Eliot, ME] region from before the 1600s to 2010," according to the publisher's website (Peter E. Randall). But the focus of the book is on Ralph Bartlett and how "his story runs parallel with the story of a present-day couple, Emily and Niel, who settle on the Bartlett family farm in Eliot." The book depicts "Bartlett's unique ties with the young couple … and his romance with the daughter of world-renowned violinist Ole Bull."
Goransson describes the book as a "history, mystery, ghost story, and love story." It's autobiographical in a sense as well, since she and her husband are the young couple that buy the farm in the book (just like they actually did in 1985), but she changes their names, like she did with many of the modern day characters in the book. However, she did not alter any of the historical character's names, and the events drawn out in the book are true, based on years of primary source research.
It's the second book for Goransson, a 1971 graduate of Canton High School. She co-wrote her first book, The Hand of Fate, in 1999 with her father and current Canton resident, George Gerzon. It details Gerzon's survival during the Holocaust.
"He always believed he survived the Holocaust to tell the story so people wouldn't forget," Goransson said.
She has been married to Paul since 1975, and since then the two have lived everywhere from Northern Africa to South America to Mexico, before settling in Maine. Together they have two children, ages 27 and 25.
"Anybody can write a book," she said. "There's nothing stopping you if you want to get a book published … there's all sorts of opportunities."
Views from Rosemary Hill was published in time for the bicentennial celebration of Eliot, ME. Goransson sat on the bicentennial planning committee, and when the committee convened two years ago, it became clear that she had to write about Bartlett.
"It occurred to me that, whoa, wait a minute, this guy wants to be in the bicentennial," she said.
And because of Goransson, he was. But, will writing the book be enough to silence his ghost?
For those interested in purchasing the book, contact Helen Goransson at heleng@bondgarden.net or visit Amazon.com. Part of the proceeds will go to the Eliot, ME Historical Society.
Short URL: http://www.thecantoncitizen.com/?p=2937

Posted by
Jeffrey Pickette
on Sep 2 2010. Filed under
Features
. Both comments and pings are currently closed.