Canton Vets' Agent Tony Andreotti hoping Congress doesn't deny Agent Orange victims
By
Jeffrey Pickette
Anticipating a potential congressional squabble over the U.S. Department of Veterans Affairs' proposal to expand the number of ailments (and therefore disability claims) associated with Agent Orange, a chemical defoliant used by American forces during the Vietnam War, Tony Andreotti, the town's veterans' agent, made it clear where he stands on the issue.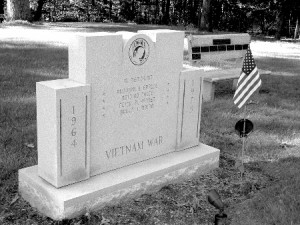 "The first check that should be written from the U.S. Treasury is disability payments," Andreotti, a Korean War veteran, said during an interview last Thursday at Canton Corner Cemetery's Veterans' Park.
Last fall, VA Secretary Eric Shinseki proposed that ischemic heart disease, Parkinson's disease, and B-cell leukemia should be added to the list of complications from exposure to Agent Orange.  But with this proposal expected to cost more than $42 billion over the next decade, Senator Jim Webb, a Virginia Democrat and Vietnam veteran, initiated efforts to freeze the funding for these expanded disability payments for two months while Congress reviews the VA's proposal.
"In no other war have veterans died so young outside of combat. The Vietnam veteran widows too often suffer the premature loss of their partners, and many experience financial hardship," Andreotti wrote in a spirited letter sent to Senator Webb and VA Secretary Shinseki, as well as to Massachusetts senators John Kerry and Scott Brown and Massachusetts Congressman Stephen Lynch.
"Although these deaths may be service-related, proving that connection, especially when a veteran dies from heart disease, can be difficult at best," he continued. "Every claim denial one of these veterans receives weighs heavily on me; too often, the fault lies not in the validity of the claim but in the willingness of our government to accept the proper responsibility."
The Vietnam War ended some 35 years ago, but as Andreotti sees it, with thousands of veterans dying from non-combat, service-related illnesses, the casualties from this war continue to mount.
"What more proof [do you need?]," Andreotti asked as he pointed to a granite bench at Veterans' Park that memorializes the town's eight Vietnam veterans who have prematurely died in the years following their service.  These eight men died between the ages of 50 and 64, including five in the last five years alone.
Among the non-combat, service related illnesses (and deaths) are various complications from Agent Orange, used by American forces in Vietnam to kill foliage and other vegetation, so the enemy forces could not use it as a form of concealment. In the years following the war, however, exposure to Agent Orange has proven to be harmful to humans.
"I lived my childhood with a bunch of these guys," said an emotional Rich Eckler, who choked up when looking at the bench.
Eckler, 62, served in Vietnam from February 1968 to January 1969 and was stationed in the concentrated spraying areas Pleiku, Phu Cat and Ben Hoa. He pointed out that if there are eight non-combat, service-related Vietnam deaths in Canton, he could only imagine how many there have been across the nation. He said that it is because of his friends who are now memorialized on this Vietnam bench that he makes it a priority to see his doctor.
"I think about [being exposed to Agent Orange] quite a bit, but then again … I feel blessed that I went through the Vietnam War and came home in one piece," Eckler said.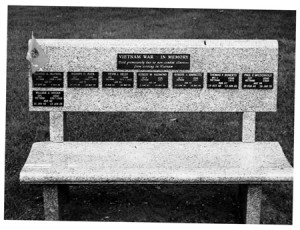 It has been reported that Webb, who sits on the Senate Veterans' Affairs Committee, is concerned not only with the high cost of this proposal, but also with the fact that some of these new ailments are commonly associated with the effects of aging, not just exposure to Agent Orange, and therefore this proposal might be too broad.
The Chicago Tribune reports that Senator Webb. in a letter to Shinseki, wrote that "heart disease is a common phenomenon regardless of potential exposure to Agent Orange."
"I take a back seat to no one in my concern for our veterans," Webb said on the Senate floor in May, according to the New York Times. "But I do think we need to have practical, proper procedures."
Andreotti believes that even with Senator Webb's efforts to review the VA's proposal, ischemic heart disease, Parkinson's disease and B-cell leukemia will be added to the list of ailments and the funding will be approved.  "It's going to go through," Andreotti said.
But he is concerned that there will be too many restrictions placed upon these newly added diseases.  Andreotti said that restrictions have not been placed on other ailments associated with exposure to Agent Orange — like diabetes — so why restrict it now?
"My fear is you've got a guy who served in Vietnam, and then at 75 he has a heart attack or stints are put in and they say 'everybody has heart disease at 75'— we're going to deny him because it didn't come from Vietnam," Andreotti said. "You can't do that."
Andreotti urges all Vietnam veterans in Canton who "served in the Blue Waters or stepped foot in Vietnam during those years" to come and see him if they have any heart condition so that he can help them file a claim.
The Vietnam bench at Veterans' Park can hold up to 14 plaques, but Andreotti believes that in the coming years he may have to add another bench as non-combat, service-related deaths continue to rise.
"I think that we're going to get it all [covered].  Whether there are some restrictions on some of those [ailments], tightening it up a little, I don't know," Andreotti said. "We'll work with it though. We might have to work a little harder."
Short URL: http://www.thecantoncitizen.com/?p=3050

Posted by
Jeffrey Pickette
on Aug 5 2010. Filed under
Features
,
News
,
Town Government
. Both comments and pings are currently closed.