Canton dad will never forget love and support
By
Jay Turner
Editor's note: On February 1, Jonathan Forman, a Canton resident and a proud father of two girls, lost his battle with Ewing's sarcoma, a form of cancer that affects the chest and lungs. He was the sole guardian of both daughters, Aimee and Sabrina. Anyone interested in supporting the girls and their Aunt Sandy in this time of great need can send a check to the Jonathan Forman Fund, Bank of Canton, 557 Washington Street, Canton, MA 02021, Attn: Geri Ryan.
For as long as he can remember, Jonathan Forman has been the independent, go-getter type. A single father of two who recently moved to Canton, Forman even handled his own custody proceedings in court after learning that his attorney had passed away.
"I think they call it pro se," said the 40-year-old Randolph native. "It didn't turn out to be all that hard."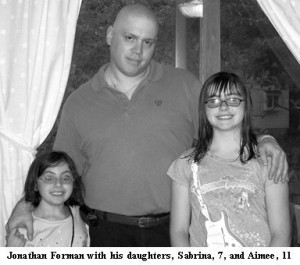 Although it took some time to settle in and adjust to a new situation, Forman made sure that everything – school, activities, doctors, dentists – was in order for his two girls: Aimee, who is now 11, and Sabrina, now 7.
And while life was admittedly far from perfect, Forman, it appeared, was managing just fine on his own.
"We were just trying to keep our lives as simple as possible, all things considered, of course," he said.
But inevitably, as Forman put it, "complexity still [found] its way in," and it came in the form of an unexpected and very frightening diagnosis.
"It was a bit of a shock at first," said Forman about learning in April that he had cancer. He and the doctors had initially thought it was just pneumonia, but further testing revealed a 9-centimeter tumor in his chest wall, known as Ewing's sarcoma. Even worse, Forman said the cancer had already started to metastasize, as doctors found nodules in his lungs.
After the shock wore off, however, Forman left self-pity behind and went into immediate attack mode.
"Once I was diagnosed, I said, 'Let's get started right away,'" Forman said, noting that within a week he was at Mass General Hospital with an entire team of doctors, and by the next day he was starting chemotherapy.
He was determined to be strong and battle his sickness; but he also came to realize he would need a lot of support, which came as soon as people heard the news.
Forman had lost his mother from cancer in 1981 and was not very close to his father, but the family he did have nearby, including his aunt Sandy Goldstein, older brother Barry and older sister Julie, "mobilized" immediately.
Sandy, in particular, Forman said, has been "wonderful," taking the kids while he has treatment and driving them to school and activities.
"She just stepped right up," he said. "She's still coming and taking the kids four, five, six days at a time."
Soon enough, staff and parents at the Hansen elementary school, where the girls attended last year, got involved.
Aimee's fifth-grade teacher, Lori Mooney, and school counselor Leann Kaplan brought the family's needs to the attention of the school CAPT and other parents, and they responded by giving the family a manila envelope "stuffed full" of various gift cards. They also pitched in to send both girls to one week of summer camp at Pequitside and four weeks at the Ponkapoag Outdoor Center.
"As for the school's involvement and Lori Mooney in particular, they have not only helped with our situation, they've really done a huge job in helping my daughters cope," Forman said, "and the summer camp is also helping to divert them from worrying about what is happening to me."
Forman called the summer camp opportunity for his girls "priceless" because it enables him to get treatment or to go to work when he is feeling well enough. "And all of this [support] has happened virtually anonymously," he added.
Forman, who works in the IT division for BJ's Wholesale Club, received a similar outpouring of support from his coworkers as 30 of them chose to shave their heads in a show of solidarity. A female coworker even shaved her head completely and two others cut their hair down to one inch.
"My first day back to work, it was unbelievable to walk into that building and see just a multitude of shaved heads," said Forman, fighting back tears.
He said he has also received financial support, prepared meals, groceries from BJ's, flowers, and "cards and cards and cards." And people are now beginning to ask what his daughters' clothes sizes are in order to help out with back to school shopping.
***
For a guy who is used to doing so much himself, having cancer and having to rely so much on others has been difficult at times for Forman.
"It's been a life lesson to me on how to accept help," he said. "And I've learned a lot about people in this process."
In agreeing to share his story with the Citizen, Forman said he was hoping to let people know how grateful he was for their help, and also "how capable people are of doing good."
"I think, deep-down, probably all of this happened to teach me something," he said.
And while he still has a number of treatments left to undergo and is not cancer-free just yet, Forman wanted to make it clear that his story is far from over. He still wants to fulfill his dream of starting his own business, and of course, wants to continue to be there for his daughters and watch them grow.
But even when that day comes that the cancer is gone and life begins to get simple again, Forman said he will never forget the love and support of his family, friends and community.
"As it goes forward, I will remember all of this," Forman said.
Short URL: http://www.thecantoncitizen.com/?p=3068
Posted by
Jay Turner
on Jul 31 2008. Filed under
Citizen Classics
. Both comments and pings are currently closed.