Legendary coach Paul Therrian will be inducted into CHS HOF
By
Jay Turner
It isn't often that a high school football coach in Massachusetts gets compared to a coach in the National Football League, let alone any number of the league's all-time great coaches.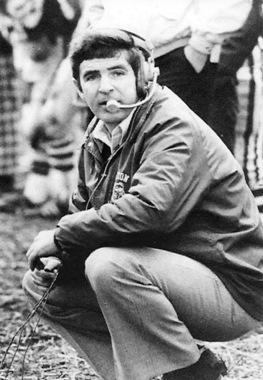 Then again, it isn't often that a coach inherits a proud yet struggling program, comes in and beats the super bowl-bound Thanksgiving Day rivals in his first season, and then goes on a few years later to rip off five straight league titles, including two state titles, before riding graciously off into the sunset.
Welcome to Paul Therrien country — where the name alone is synonymous with "legend" and conjures up such an intense longing for the "good old days" of Bulldog football that one can't help but wonder how he ever managed to leave town in the first place.
Of course, he did leave — after the 1983-84 school year — eventually settling in his current home in Ireland. And while just about everyone in Canton at the time would have liked him to stay, few could have asked for more than what Therrien contributed in his 11 years as a teacher and a coach.
The proof is in the way those who knew him still sing his praises, nearly 24 full football seasons after he last manned the sidelines for the Bulldogs. As one contemporary recently put it, "No matter who comes after him, no matter what happens, Paul Therrien will always be the man."
That contemporary was Richard Staiti — the attorney, town moderator, former selectmen, longtime CHS teacher and athletic trainer, who has seen many a coach come and go, but will forever keep Therrien at the top of his list. And there are many more like Staiti — former players, assistant coaches, reporters, colleagues, fans — who will always consider him to be the best at what he did.
In a little over a week, Paul Therrien the man will return to where Paul Therrien the legend was born, traveling all the way across the Atlantic to be inducted into the Canton High School Hall of Fame. He may not recognize the setting, as Canton High School has been through an extensive makeover since he was last here; but he will certainly get a chance to reconnect with the people who, in his eyes, made him so great.
For Therrien, like many of the coaches he has been compared to, was and still is a man of humility, content with letting the play on the field speak for itself and insistent on spreading the credit around. When asked, for instance, how he was able to build such a dynasty that no Canton coach after him has been able to duplicate, his reply was simple, direct: "A willing administration, an outstanding athletic director and loyal and hardworking players and coaches," he said.
While all of these ingredients were certainly there, the numbers under Therrien are nonetheless impressive. From 1973 to 1983, the Bulldogs were 65-38-5, and that included a few sub-par seasons early on. They were 42-7-2 during their string of five Hockomock championships; and including the two super bowl wins, they were 30-1-1 during the "golden years," from 1979 to 1981. Therrien was named the Boston Globe Coach of the Year after the undefeated 1981 season, and if Canton had had a mayor, he very well could have been the unanimous choice.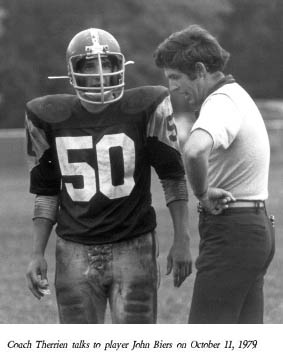 To this day, however, Therrien's favorite coaching moment is still the Thanksgiving Day victory over Stoughton in 1973. Although the game was at home, Stoughton was having a dominant year, and virtually everyone was expecting the Black Knights to win.
And then came the shocker: Canton 16, Stoughton 15.
"That was his jumpstart," recalled Glen Hannington, who, at the time, covered the team for the Canton Journal and also knew Therrien as a teacher from his post on the School Committee. Hannington likened what Therrien went on to accomplish in Canton to what Bill Parcells was able to do with the New England Patriots — lead a program "back to respectability."
Staiti also mentioned Parcells, as well as Vince Lombardi and Bill Belichick, when asked about the type of coach Therrien was. They all had an indescribable "aura" about them, he said, that just commanded respect from everyone.
"He was really salt of the earth. He'd shake your hand and he'd break your hand," said Staiti.
To former players Scott Sullivan and Chris Cavallaro, two stars on the 1981 championship team, Therrien was most like Belichick, the Patriots' current coach who has led New England to three super bowl wins in the last seven years. They both described him as a bit intimidating, but deeply respected, as well as a firm believer in the team-above-all mentality.
"He was a great coach," said Sullivan.
Although the choice of words varied from person to person when asked what made Therrien's teams so good, everyone agreed on the number-one reason: preparation.
"He was one of the hardest working coaches I've ever coached with," said Tom Healy, who coached the freshmen team and assisted with the varsity.
Cavallaro described him as a "student of the game," and Staiti said Therrien spent hours breaking down film and planned his practices in such detail that just about every minute had a specific purpose — and no one ever questioned it.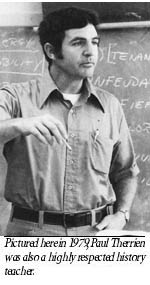 Staiti recalled one practice in which Therrien blew the whistle and walked off in disgust at the lack of effort on the part of the players. Within minutes, the captains were knocking on the door of their coach's office, apologizing and asking if they could continue to practice.
"He demanded a lot, but we were always very well prepared," said Rob Davis, another senior on the 1981 team.
It was about respect; and Therrien exuded it without having to do a lot of barking at his players. While they may have feared him as young kids dreaming of playing on the high school team, when they finally got there, they found a man with a dry sense of humor who was not only committed to winning, but willing to teach them how.
"Coaching is teaching and I enjoyed it tremendously," said Therrien.
Of course, when Therrien was not on the field or in the locker room, he was in the classroom teaching history.
"He was a very, very good history teacher," said Healy, also a colleague of his in the CHS history department. "He was highly respected."
It should hardly be a surprise. Although described as a "man of few words," Therrien, like all of the great coaches people have compared him to, was a communicator. Sometimes it was simply the sound of his whistle, or just the sight of him working tirelessly in his office.
But whenever he spoke, they listened.
Short URL: http://www.thecantoncitizen.com/?p=3108
Posted by
Jay Turner
on Nov 15 2007. Filed under
Canton History
. Both comments and pings are currently closed.