A Season to Remember…
By
Jay Turner
CHS Hall of Fame to honor 1981 Super Bowl champs
There was a time when Canton High School football reigned supreme, when the green and white were kings of the Hockomock League, and when hundreds of Canton faithful packed the stands at every game to support the unstoppable Bulldogs.
Over the span of three seasons, from 1979 to 1981, Canton amassed 30 wins, including two super bowl wins, one tie, and only two losses — and one of those losses came in a Boston courtroom after the 9-0-1 1980 season, when the Bulldogs, despite being the second-ranked team in division three behind Silver Lake, were snubbed from the Super Bowl because of an MIAA technicality.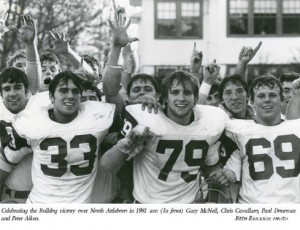 The Bulldogs were not to be denied twice, however, as they returned to the gridiron in 1981 to have one of the most remarkable single-seasons in school history, going a perfect 10-0 over the regular season, and then running over Somerset in the snow at the Patriots' Schaefer Stadium to become the Division III Eastern Massachusetts champions for the second time in three years.
Nearly 26 years have passed since that unforgettable day in Foxborough; but in a few weeks, on November 24, the entire 1981 team, along with its legendary coach Paul Therrien, will take their proper place among the school's all-time greats when they are enshrined in the CHS Hall of Fame. The ceremony will take place, fittingly enough, at Canton High School, two days after this year's Bulldogs do battle with Stoughton in the Thanksgiving game.
1981 was one of those seasons that could not have been scripted any better, from the season-opening victory at Silver Lake — the team it had tied to open 1980 — to the mid-season come-from-behind thriller over then-undefeated North Attleboro on the road, to the 43-6 slaughter of the Black Knights on Thanksgiving Day at home.
And then, of course, there was the Super Bowl. Not only did the Bulldogs get to face Somerset — the third-ranked team in 1980 and the beneficiary of the infamous technicality — they also won in convincing fashion during the start of what came to be the biggest blizzard since '78.
"The whole year was just fun," recalled Scott Sullivan, one of the team's three captains. Sullivan was a force on the offensive line all year, earning Hock all-star and Globe all-scholastic honors, and eventually going on to play four years at Brown University.
He said everyone worked hard at every practice, and no one ever complained about playing time or what position they were asked to play. Overall, he said, it was just a real team effort.
And what a team it was. Canton dominated both sides of the ball all season long, outscoring its 11 opponents 346-70 and outrushing them 3,155 yards to 432. They scored 35 or more points in six different games and allowed more than one touchdown in a game only twice.
Although the Bulldogs emphasized the team-first concept, there were a number of individual stars as well. Leading all scorers was running back Dick Shannon with 15 touchdowns, followed by captain Pat Keelan with 13 and quarterback John Homer with seven.
All three rushed for more than 500 yards, as did fullback Chris Cavallaro, who chipped in with six touchdowns of his own.
On defense, captain Doug Seaman led all Bulldogs with 65 total tackles and 11 sacks, while Shannon and Robby Davis tied for the team lead with four interceptions.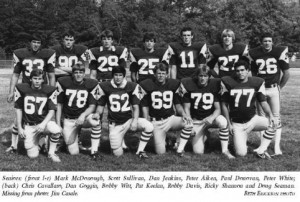 Also making an impact on both offense and defense was the now-famous Bobby Witt, who went on to play 19 seasons of Major League Baseball. Witt was known then as a "quiet contributor," who made a name for himself in the crucial North Attleboro game by twice pinning the opponents deep in their own territory with booming punts of 53 and 54 yards.
Besides the Super Bowl, the 21-17 win at North Attleboro was also the highlight for Cavallaro, who, in a recent telephone interview, described the two teams' rivalry back then as being like the "Hatfields and the McCoys."
"That was a struggle that game. I'll never forget it," he said.
To this day, he remembers a play that one newspaper called the play of the game for Canton. With the visitors trailing 14-7 at the start of the third quarter and the Rocketeers driving, North Attleboro's quarterback connected with John Gaumond, who ran up the left side heading for what appeared to be another touchdown.
"I came from the other side of the field and nabbed him around the 10-yard line," said Cavallaro. "I grabbed him by the shoelaces."
After holding North to a field goal, Canton then roared back with 14 unanswered points, including a Cavallaro rushing score and a 47-yard bomb from Homer to Davis, to seal the victory and remain undefeated.
The rest, of course, is history. Cavallaro called it "incredible" the way the whole season came together. "The stars were in alignment that year," he said.
Although he splits his time now between York Street and Cape Cod, Cavallaro said he still keeps an eye on Bulldog football and wishes today's generation could experience what it's like to have the whole town behind a team.
"It was totally different back then," he said, noting how few other sports were offered at the high school. "That was the sport. That's what the whole town followed."
"Everybody wore Canton jackets," he added. "Everybody wanted one. Growing up, everyone wanted to play football."
Short URL: http://www.thecantoncitizen.com/?p=3093
Posted by
Jay Turner
on Oct 25 2007. Filed under
Canton History
. Both comments and pings are currently closed.